Microblogging Definition: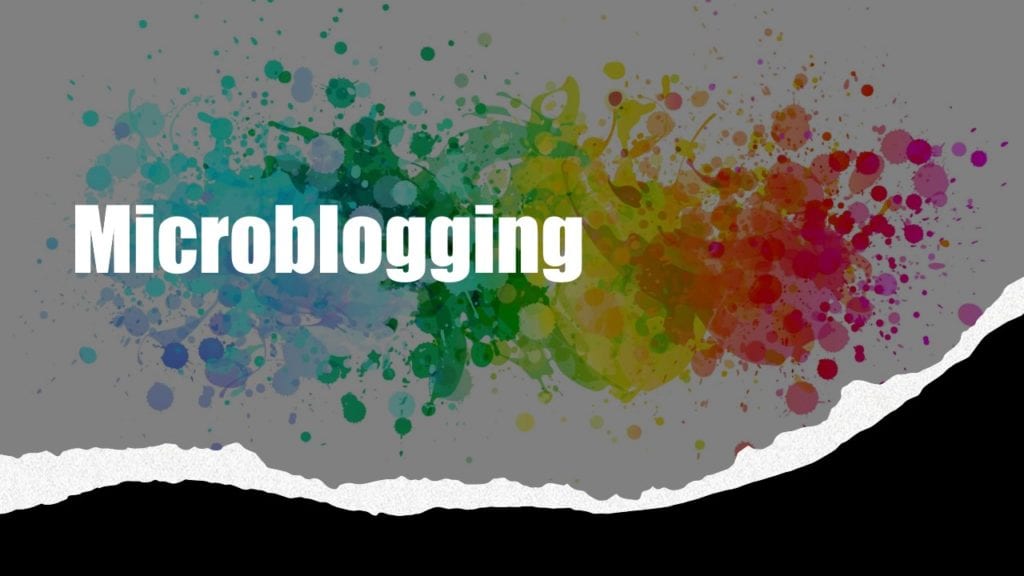 Microblogging as hinted in its name is a type of blogging that has micro-posts, hence the name micro in front of the word blogging. By micro-posts we mean much shorter posts than a blog would have.
Like blogging it's a way of broadcasting online but it's most commonly referred to on social media sites as microblogging rather than the traditional hosted website blog. The reason for micro in the name is that characters in posts are usually limited.
What is a microblogging site?
Micro-blogs give users the ability to post short-form content usually under 100 characters but can include videos and images. Some people refer to them as micro-posts or tweets if you are a Twitter user.
Examples of Microblogging Sites
Microblogging Platforms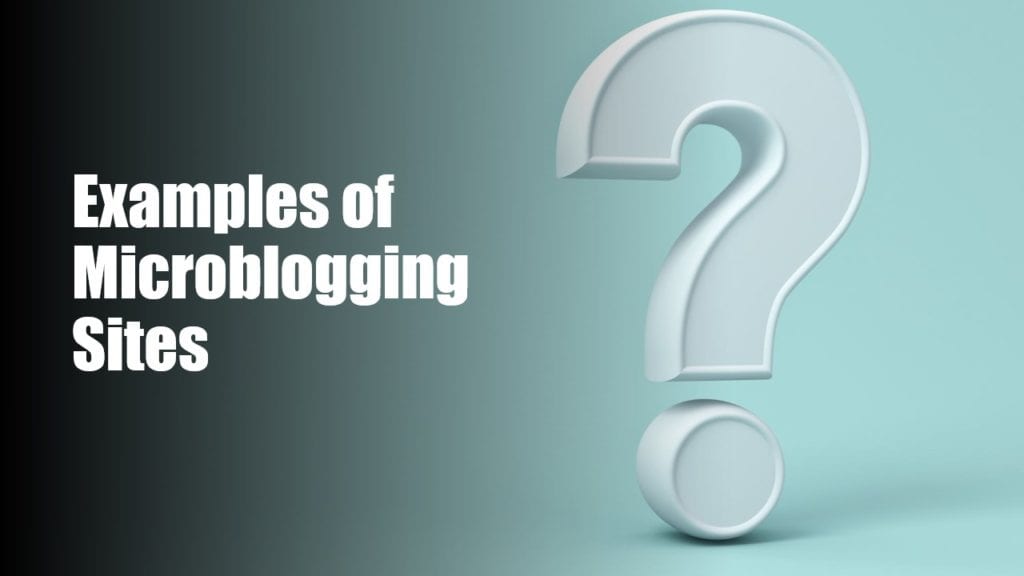 Blogger microblogging – Blogger can be classed as a microblogging platform outside of the social media platform category and can be used purely as a microblog.
WordPress microblogging – WordPress is also a microblogging platform that is not a social media network. You can download themes and plugins to make it identical to Twitter or Tumblr.
Plurk microblogging – Plurk is in the social networking category but is free and a microblogging service that has a limitation of 360 characters.
Medium microblogging – Developed by Evan Williams, Medium is an online microblogging platform for journalism. Medium includes exclusive blogs and writers from professional to amateur.
Ghost (blogging platform) microblogging – is a modern microblogging platform that gives you full ownership of what you do with your blog.
There are also social media sites which include Twitter, Tumblr, Pinterest, Instagram, LinkedIn, and Facebook, which are all categorized as microblogging sites.
Although you will not hear them referred to that very often unless you are specifically talking about microblogging over social media sites.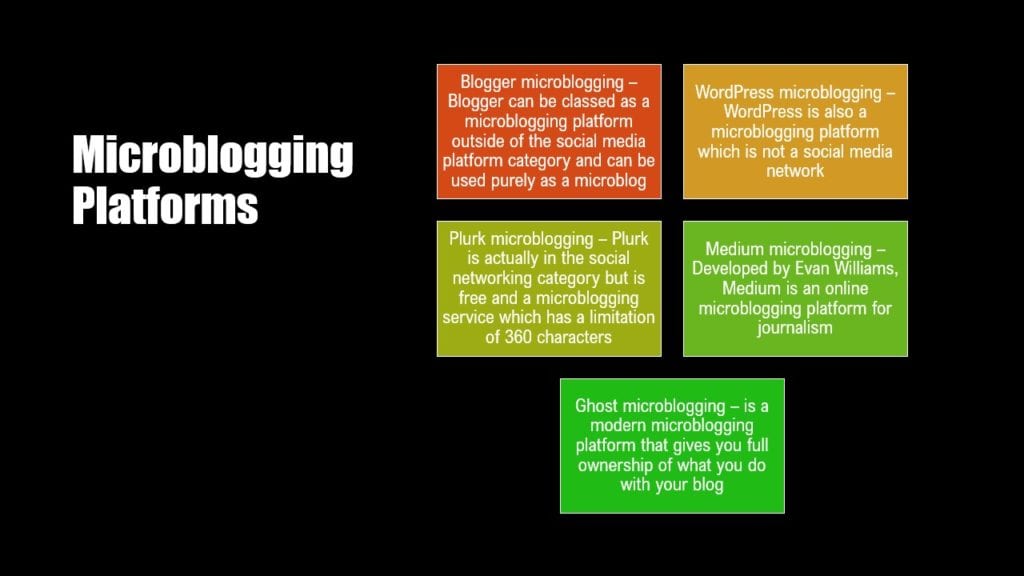 What is the difference between blogging and microblogging?
Microblogging requires less time developing content than a traditional blog. Traditional blogging requires creating a post with at least 1,000 words whereas microblogging only requires a sentence or two. From that perspective, it is much easier to create content for microblogging.
Another difference is Microblogging platforms are usually social media platforms that are already optimized for mobile devices and have mobile apps which include direct notifications to a user's device. A ping directly to someone's hand.
On a blog, unless you have a popular website and have an app developed it will be hard for you to get that kind of audience without microblogging.
Microblogging Tips
The shorter the better with microblogging as we must keep the word count as low as possible, short impactful sentences that purvey the message you want to give.
Keep your post relevant to what you know and do use hashtags to specify the category or tag your post.
Usually, you want to use them for keywords that people would use within the platform. Make sure you post daily to your microblog.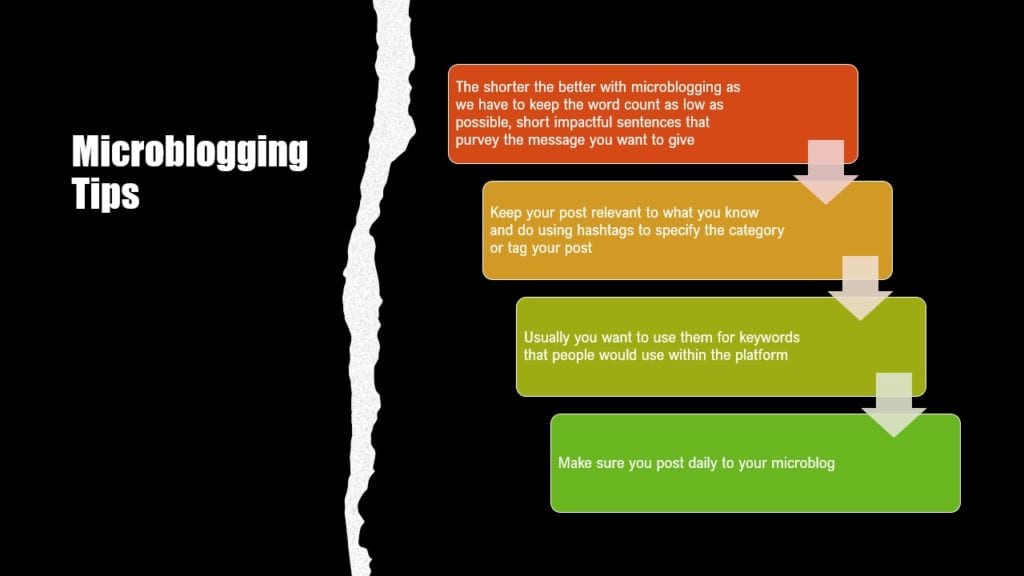 Importance of Microblogging
Microblogging is particularly important in today's world of distance and isolation as they are a means of communication with the world around us.
They are built up from online communities with like-minded people we can engage with.
We can educate ourselves on current events and catch things live even before news media could so microblogging keeps us well informed.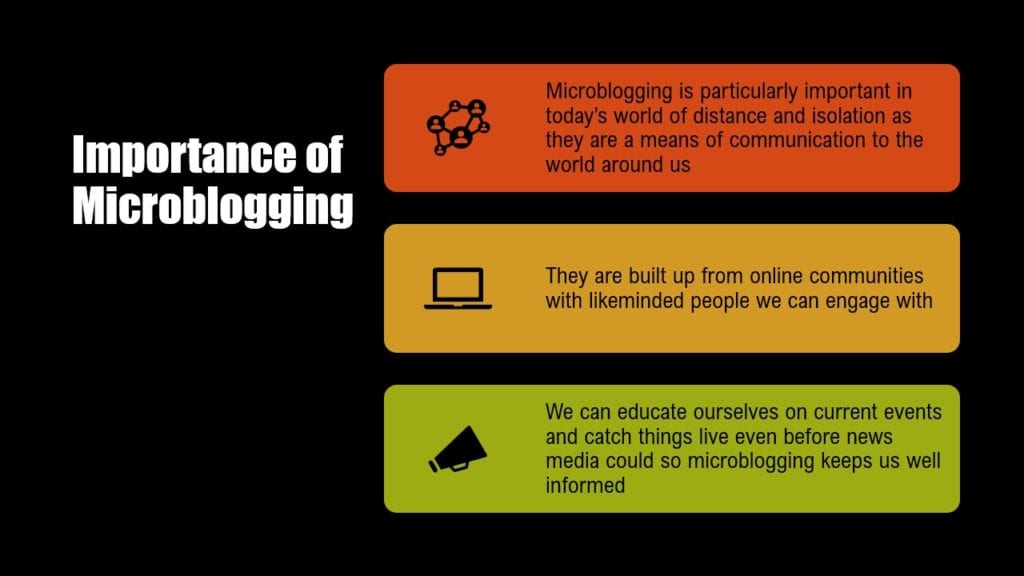 Drawbacks of Microblogging
After doing this research I have also found a few drawbacks of microblogging.
A few disadvantages of microblogging are those characters being limited can prevent you from finishing what it is you want to say.
Sometimes there is just too much information to put in such a short text area.
When you post to a microblog like Twitter, it's temporary and disappears in the void after a few days of posting so it cannot be referred to in the future.
Thanks for reading my article on microblogging.
When I was searching all, I could find was information on social media networks and not actual microblogging sites.
So, I compiled this article to help the people like me who needed this information.
if you want to learn how to start blogging I have learned via an amazing course and got my website running in 5 days: