Business Networking
Networking with other business owners is one of the best things you can do for your business. Not only will you learn from their successes and failures, but you'll also be able to form valuable relationships that could lead to future partnerships or collaborations. Here are a few tips on how to network with other business owners:
1. Attend local networking events.
There are probably many local networking events happening in your area on a regular basis. These events are a great way to connect with other business owners who are in your industry or who share your target market. You can find out about upcoming events by doing a quick Google search or by checking out online event calendars.
2. Join an online forum or group.
There are many online forums and groups where business owners can connect with each other. This is a great option if you don't live near any local networking events, or if you want to connect with more people than what's available in your area. Just be sure to read the group rules before posting so that you don't violate any guidelines.
3. Reach out to others individually.
If you come across someone whose work you admire, reach out to them directly and introduce yourself. Tell them why you admire their work and ask if they'd be willing to chat with you about their experiences. Chances are, they'll be happy to share their advice with you.
4. Follow up with networking contacts.
After meeting someone at a networking event or connecting with them online, be sure to follow up with them. Send them an email or give them a call to thank them for their time and see if they'd be interested in meeting up again sometime. Networking with other business owners can be a great way to learn from others, form valuable relationships, and grow your business. By following the tips above, you'll be well on your way to establishing successful connections with other business owners.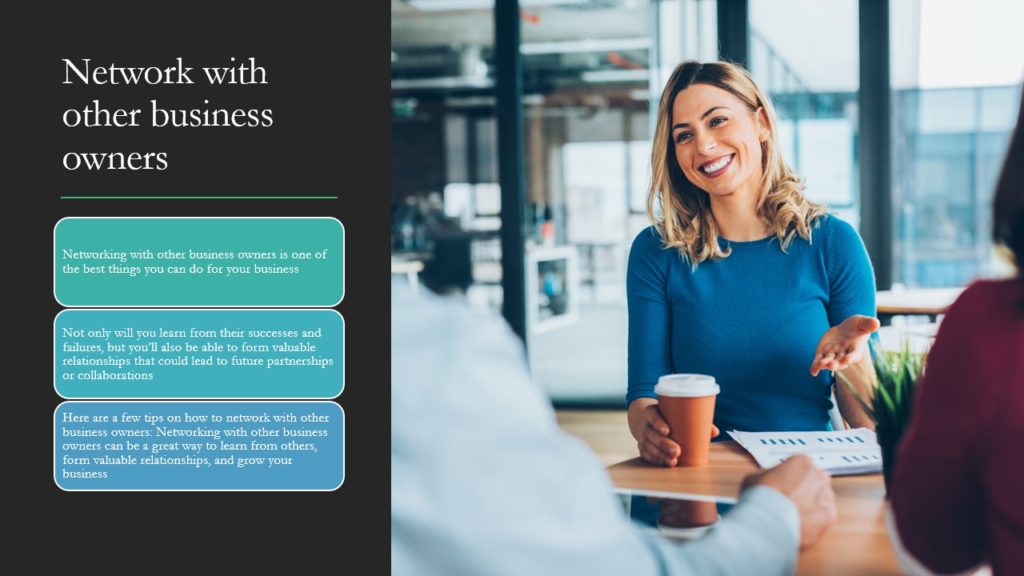 To read more strategies on getting your business found with more traffic, read the parent article here: Get your Home Business found with content marketing | Business, Content Marketing (lewis-anderson.com)