Two Affiliate Marketing Techniques
When you make a commission by promoting and selling someone else's product, you are doing affiliate marketing. You choose a product that fits your brand, promote it, and earn a commission on every sale you make. Affiliate marketing is a fantastic strategy to boost your earnings.
You are happy because you earned a commission, the other firm is happy because you helped them make a sale, and the consumer is happy because they found what they were looking for. The brilliance of affiliate marketing is that you do not need to invest any time or money to sell a product.
Many firms and individuals have profited entirely from affiliate marketing, in which they advertise third-party products on their websites. Let us have a look at the two basic affiliate marketing strategies:
Become well acquainted with the affiliate product(s) you intend to promote. To provide your customers, with the opportunity to acquire the goods, you must be confident in it and feel great about the product(s) and company. If you do not like the product, you should not sell it to your website's visitors. Do not just pick the first product that comes along because the commission rate appeals to you. Not all affiliate marketing items are worthy of her respected website or blog recommending them. Make certain that the product or items you select will not harm your website due to their inferior quality. That means you must devote time to product research.
Never tell a visitor to buy an affiliate product directly. Simply recommend a product based on your own personal experience with it, as well as what you have done with it or how you have used it. You should not suggest a product to others if you have not used it.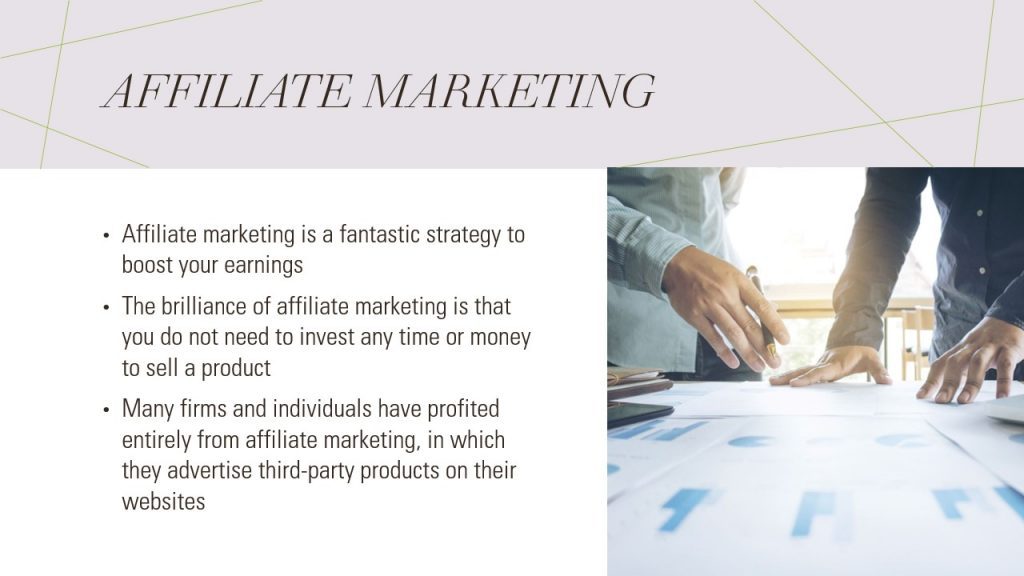 Affiliate marketing that is honest is the greatest affiliate marketing. It is a solution where everyone benefits for you and your company, the customer, and the affiliate company when you are honest and offer something of value. Honesty is the key to success. When you are truthful, you will develop a loyal consumer base that will return to your website, as well as help to strengthen your brand.