The two most common mistakes affiliate marketers need to avoid.
One of the most satisfying methods to generate money online is through affiliate marketing. When done correctly, it can be tremendously profitable. However, as an affiliate marketer, you must know how to effectively promote a product that is owned by another company or individual. Affiliate marketing is a great method to build a steady stream of revenue, but it's not easy. It necessitates both expertise and knowledge. Here are two of the most typical mistakes novice affiliate marketers make, both of which can lead to failure.
The first mistake Choosing Products to Promote based on Commission Pay-out
This is a common blunder made by inexperienced affiliate marketers. They search for products with the greatest commissions and select affiliates purely on the basis of the commission paid for each sale. However, keep in mind that your goal is to create an income stream that will persist for a long time.
You'll need more than a shoddy product with a large commission to accomplish this. You want to start building trust with your visitors so that they return and buy from you again and again. To do so, you must provide a genuine product. You must also try this product in order to declare that it is something you believe in and would use. This will help you and your firm gain relevance and credibility, as well as develop a long-term revenue stream. Customers will trust what you have to say as you introduce more products over time, and they will continue to buy from you.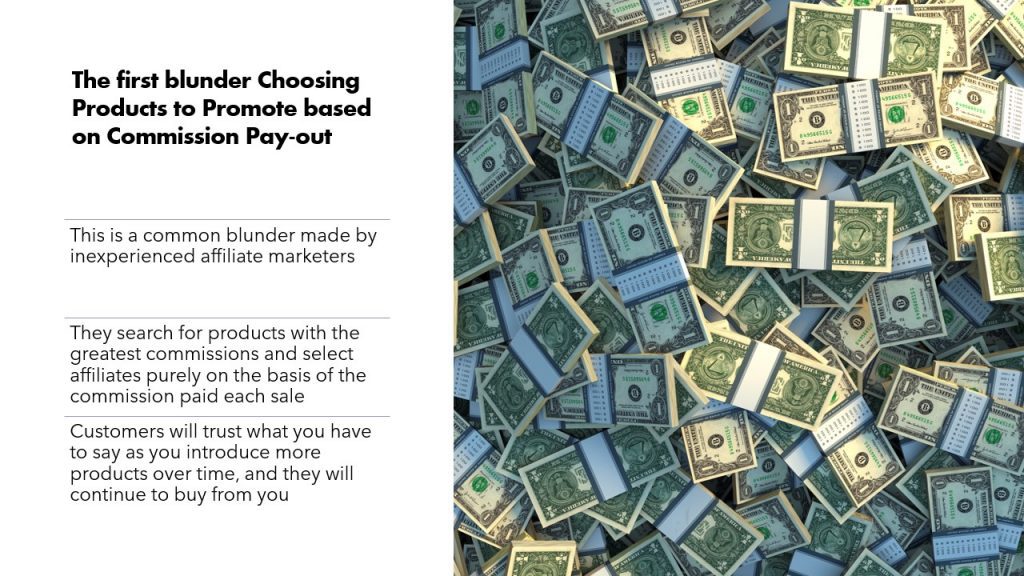 Affiliates who don't build a list are the second most common mistake.
One of the most typical blunders made by new affiliate marketers is sending traffic to their sales page directly. The first step in starting an affiliate marketing firm is to create an e-mail marketing list. If you send traffic directly to your sales page, you will only receive one commission from them.
Alternatively, if you take the effort to establish an e-mail marketing list, you might earn many commissions from a single consumer. You'll develop long-term relationships with clients who are already interested in the product(s) you're selling. Once you've built a list, you'll be able to market to the same clients as often as you want for as long as you want.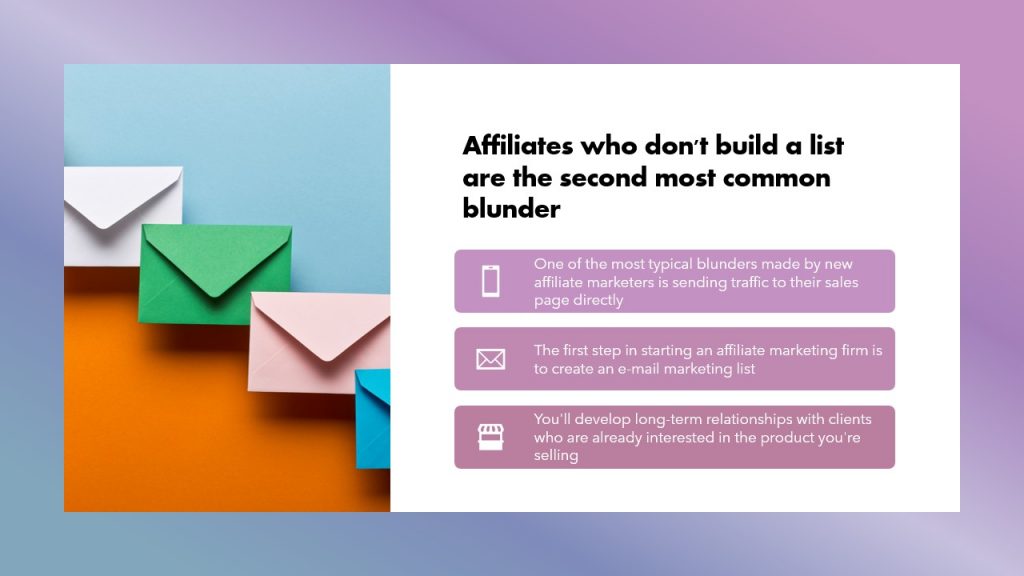 If you stay away from these two dangers, you'll be well on your way to becoming a successful affiliate marketer.
Thanks for reading and continue to read the next article below after leaving your thoughts in the comments.