Featured Posts
Featured posts are posts that are displayed in a special featured way on your blog. The featured post would be highlighted in the header or at the top of a website making it the first visible item to the visitor of your blog.
Some featured content can rotate on a slider-type gallery, displaying different featured content. So, you could have three featured posts which rotate in the featured content area every three seconds.
You can see examples of this on msn.com home page where the news articles are featured and rotate every so often.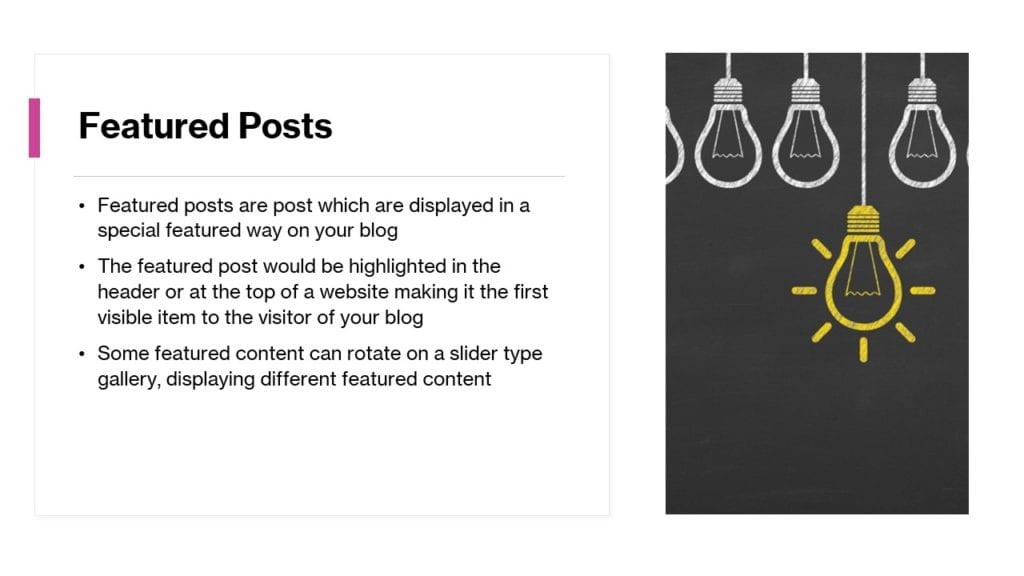 What does featured content mean?
---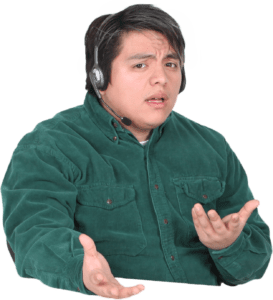 Featured content means content that has distinctive attributes or aspects of a specified kind highlighted and made attractively visible. A featured post would normally stay at the top of a blog and be the first post anyone sees even if it's older than some other posts on the website.
A featured image would be at the top of a post featured and made visible as part of the post title. It's the fact that the content stays highlighted and contains information the writer wants to be seen the most which make it featured.
It also enables the user to keep the content featured in a reliable way within WordPress even when changing themes, the featured content will still be highlighted and available as the first post anyone sees.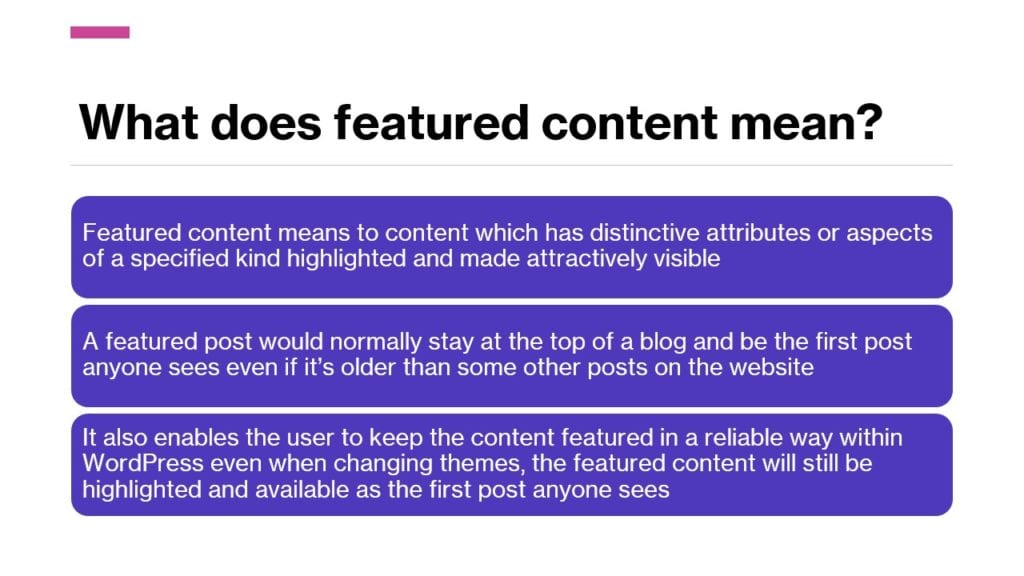 ---
What is a featured blog post?
A featured blog post is a post of content you as the post writer, would like to be featured on the blog or website.
So, if you wanted to write about an upcoming event, and want as many people to see the post as possible, you would create a featured post that stays static somewhere on the website, over the other type of post which slowly disappear down the page as more posts are posted to a blog.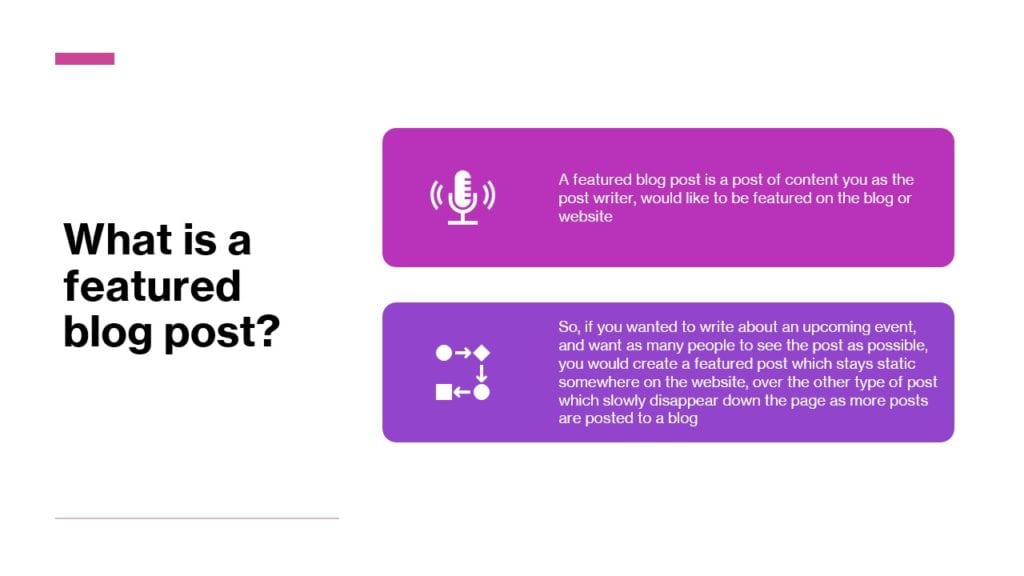 ---
How do I add a featured post?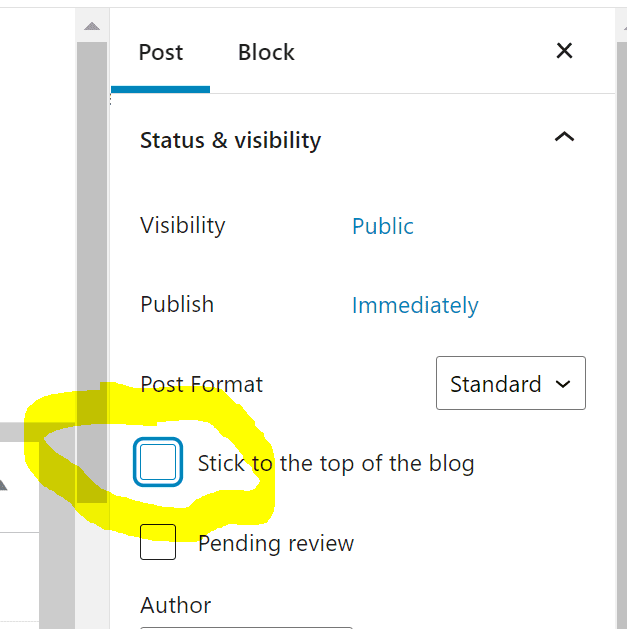 To add a featured post to your WordPress blog, follow these quick and straightforward steps:
Create a new post and give it a title
Write your post content until it is completed
 From the block editor click over to post where you have the settings to edit the post details like date and time posted.
Tick the box which says "Stick to the top of the blog"
Now publish your post and it will be a featured post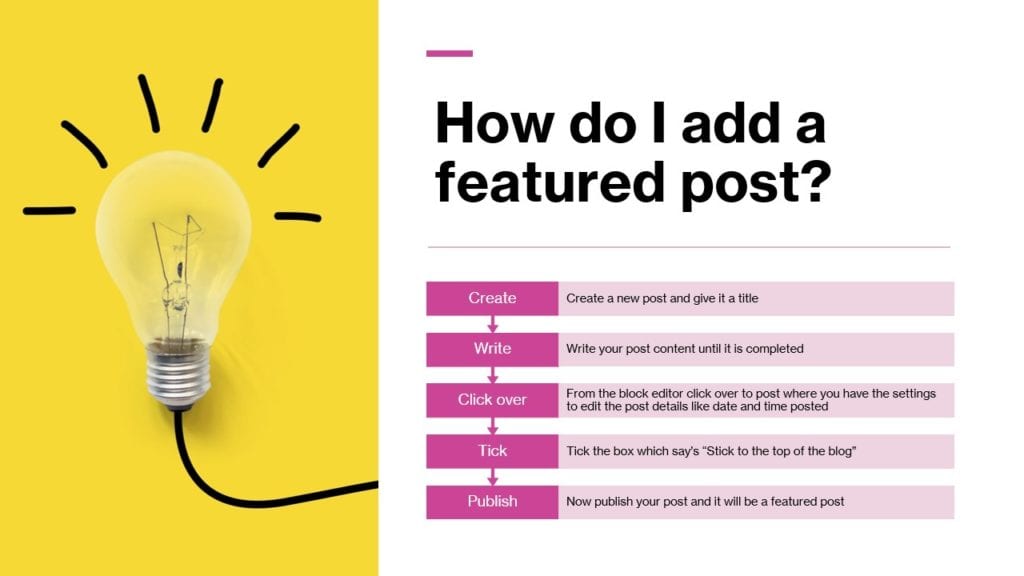 ---
How do I edit a featured post on WordPress?
To edit a featured post on WordPress, you need to follow these simple steps:
Go to your WordPress Dashboard and select Posts from the left-hand menu
Select edit on the post featured post
Once you have finished editing select update or publish
Now you have successfully edited a featured post on WordPress.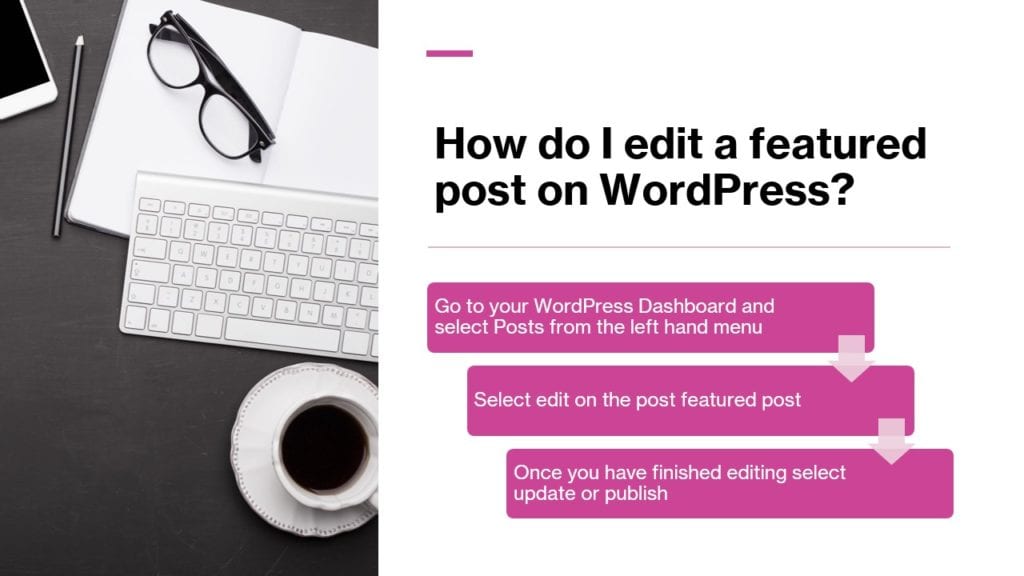 ---
WordPress Featured Image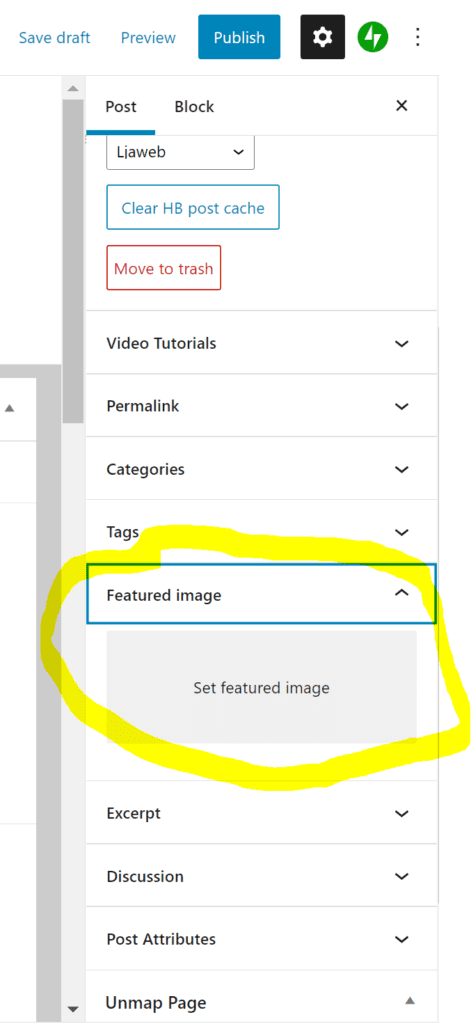 A WordPress featured image is an image that displays at the top of a post and features the post in a way that integrates with the website's theme.
Where a typical image would be an image displayed on the page, the feature would usually be large and behind the title of the page or post.
To add a featured WordPress image to your post, you can follow these few simple steps:
Go to your WordPress Dashboard
Select posts on the left-hand menu
Select Edit on the post you would like to add the featured image to
On the right-hand menu where you can choose between blocks or posts, scroll down to Featured Image and select Set featured Image.
Now from your library, select or open the featured image you want to feature. Then select "set featured image"
 Once done update or publish your post. You have now set a featured image.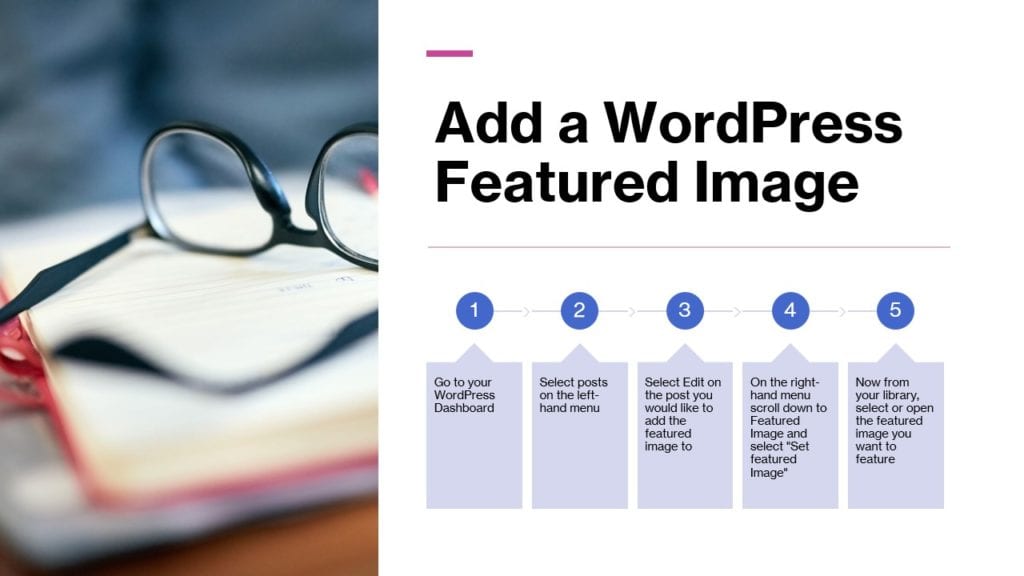 ---
WordPress Featured Video
Lastly, the featured Video in WordPress is worth mentioning.
To use featured video, you are much better off using a plugin called VideoGraphyWP, it has all the notable features you would expect along with a beautiful way to display your featured video.
You can find out more details about VideoGraphyWP here: Getting started Archives – WordPress video plugin – VideographyWP https://videographywp.com/documents/getting-started/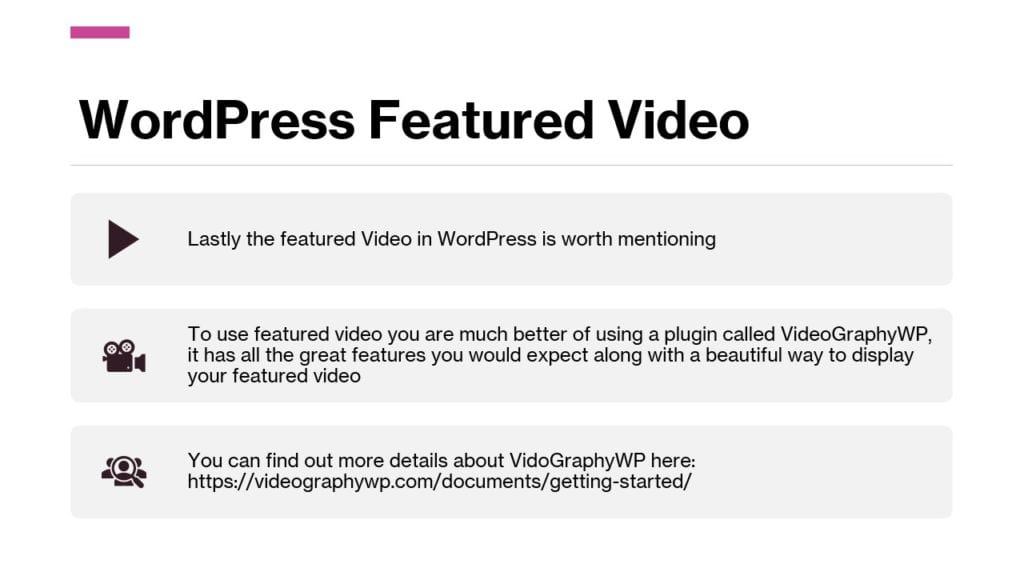 ---
To Summarize
Featured content is content displayed in a distinct way that is the most impactful and stays above normal content. You can get several types of featured content from Posts themselves to content within the posts like images and video.
You can also get a Vido plugin which makes the featured videos much more manageable and from other platforms like Vimeo and YouTube.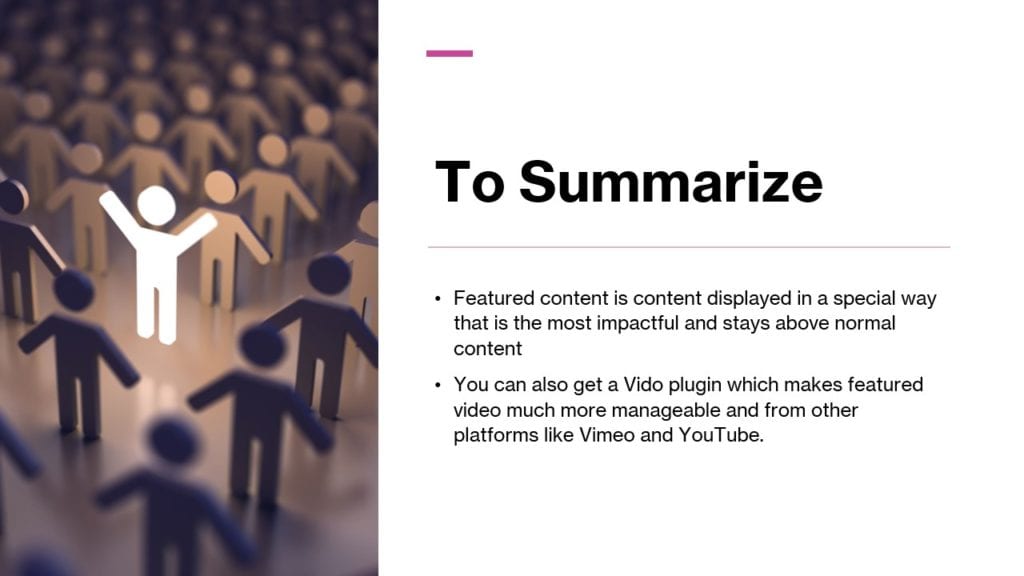 ---