Top Free Web Traffic Tips
Increase your traffic with high-quality content.
Content marketing, such as blogging or guest posting, is the fastest approach to increase organic search traffic and gain free web traffic. Content marketing, on the other hand, is a quality game rather than a quantity game. People will not bother reading or sharing bad content, which is the entire point of creating a company blog. As a result, when I create content, I constantly ask myself if I would read it in ten minutes and share it with others. If you would not do either of those things, you should reconsider your content strategy.
People and businesses that receive high-quality, consistent content from search engines are rewarded. Author rank, for example, will have a significant impact on organic search results. If you want your content to become viral, you need a strategy in place to ensure it is appropriately disseminated throughout social media platforms.
Create content-rich articles. High-quality articles will rank higher in search results. Make certain that your articles meet the needs of your readers and that they can find all the information they require in a single location. You cannot get this anywhere, or at least not at the same degree of quality. This is a fantastic way to drive visitors to your site and keep them there.
Do not use content generators under any circumstances. While they were once a popular choice for the new web industry, they are no longer considered useful. It is far preferable to put one's creativity to use. Google and other search engines will ignore content-generated articles, and visitors will be disappointed with the content they find, causing them to leave your site. Useful content will increase visitors, which will increase traffic flow.
Never make the error of copying and pasting from another website. The search engines are far too intelligent and will recognize what you did. You will be penalized for it, which will result in a decrease in traffic.
Your content is essential – What an effortless way to boost your free traffic.
Use Industry Professionals to Increase Your Free Traffic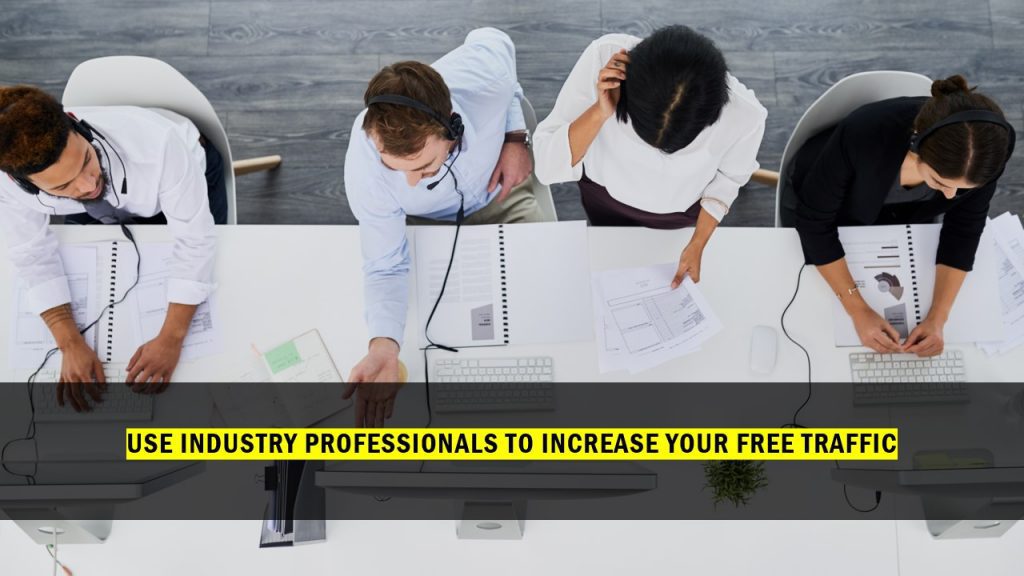 If you want to increase free traffic to your website, establish yourself as an expert in your field. You may be an expert in your niche, which is fantastic, but you can gain even more traction by collaborating with industry experts.
It will not be difficult to persuade industry leaders to contribute a guest post to your blog or to participate in a webinar with you. Experts enjoy sharing their knowledge, and if it allows them to gain exposure, they are even more eager to participate.
They will certainly have their own following, and those people will now be aware of your brand or niche. That is an additional source of free traffic for you!
These experts frequently create superior written content that their existing users keep up with. Your followers are likely to be interested in it as well, and if they like what they read, they will share it with others, and you will see your free traffic grow once more.
When your followers see that you are bringing in industry experts as guests, they will be eager not only to participate but also to tell others about what is going on at your niche site. That will certainly increase traffic to your site.
Industry experts are well-respected and frequently recognized by both surfers and visitors. Their knowledge is a natural draw. People are interested in hearing what they have to say. Once they are on your website, you will need to figure out how to keep them there and keep them coming back. You will also want to devise a method for inviting others so that your traffic continues to grow.
Make use of industry experts – they are a valuable resource that is frequently underutilized.
Increase Your Free Website Traffic by Participating in Forums and Blogs.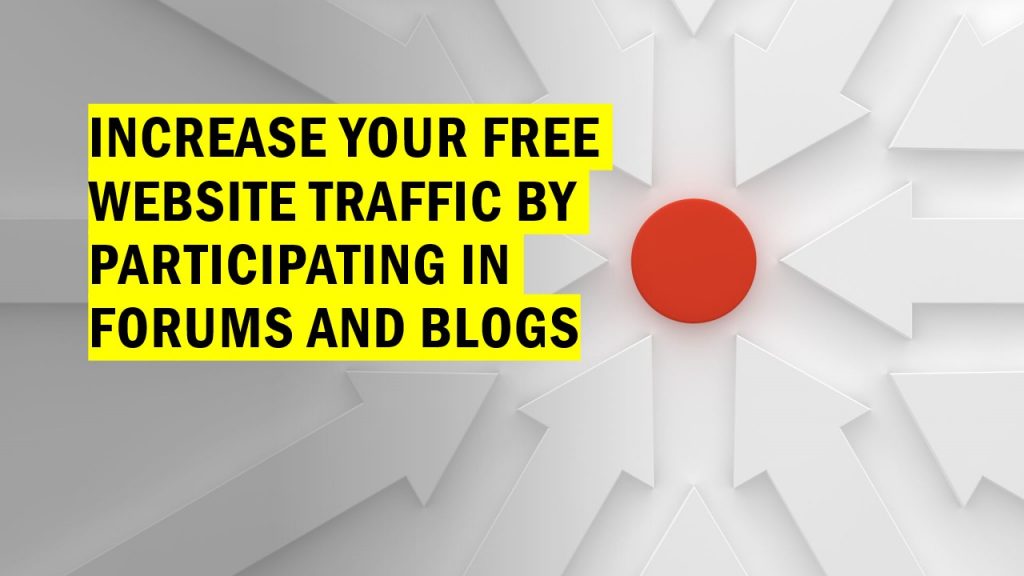 So, you want to increase free traffic to your website, but you are not sure how to do it. Surprisingly, and far too frequently, the most obvious and simple to use are overlooked. That is the case with forums and blogs – both can be invaluable tools for increasing your traffic.
You can go to online discussion forums, of which there are many, where people in your target market congregate and hang out. Once there, you can respond to questions in a useful and helpful manner. You can use this to include a link to your website with your name at the end of your post. A fantastic way to increase traffic to your website.
Finally, you should create a signature file with a link to your website so that it is seen as often as possible. This method is more efficient and effective than putting it in each individual post. If you post too much, you will lose credibility and visitors will stop coming to your site. You will completely negate any of the advantages of forum posting.
You can also leave comments on other people's blogs. Make sure your website link is always visible when you post and leave comments on a regular basis. It works in the same way that your forum posts do, and you want to make sure that you do not over-post and annoy others. There are an infinite number of blogs to follow, so do so. It will provide you with more opportunities to post.
Get your information out there as much as possible, and you will be amazed at how much traffic you will get – and it is free!
Thanks for reading, please read the next article in the series.